Developing Speaking and Listening Skills in Children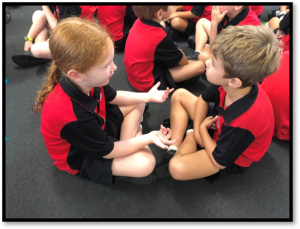 Our Year One students have been busy establishing their morning routines. One aspect of their routine focuses on 'talk for learning program.'  The students were watching a video entitled "Why do animals come back after going to warm places..' After watching the short video the teacher posed two questions to the students.
What are two things you learnt?
Do you have any other questions?
In making learning more meaningful and creative for the students, Ms Tokunai drilled down into their speaking and listening skills by providing strategies like "Elbow Partners." After their lesson, she asked the students to turn to their 'elbow partners' to discuss their prior knowledge or any questions they may have. After a minute, they switched to the other elbow partner and asked them to share what they learned from their first elbow partner! This oldie but a goodie strategy ensures that everyone has shared ideas and opinions, teaches how to actively listen with their whole body, encourages students to speak confidently, to express their own point of view and to contribute.  Now that is the spirit of developing a child's speaking and listening skills.