Year One Visit -Transitions
This week I visited the awesome year one students and their teachers. Each week the year one students and staff have been focusing on successful transitions from the beginning of the school day to the end. For example, the students after morning tea focused on lining up and then moving quietly into meditation. After mediation the students are re focused again on expected behaviour for learning.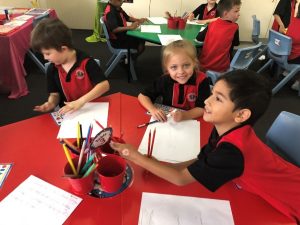 Before engaging in each lesson, the teacher transitions the students in "following instructions which means listening the first time, sitting up straight, legs crossed, whole body facing the teacher and then move quietly to your activity.  These and other transitions are all about setting students up for success and communicating consistently the same message. More photos are available on the school Facebook page. I encourage parents to meet their teachers regularly by making time. Have the best week ever David.