Visit to Year 5
Google Classroom provides a digital platform that creates a self-intuitive and user friendly experience that in turn expands their skills and knowledge in spelling new empowering words!
This week I visited the awesome Year Five students who were busy engaging in their personal spelling lists. One of the benefits in visiting students is that I can see first hand how the students are going with their learning. What surprised me was their ability to utilise their word list and check results in real time with the teacher using a digital platform called Google Classroom. In a collaborative way, the students shared laptops and iPad's with each other. The students were using a private browsing window that enables students and teachers to post assignments or receive feedback in real time from their teacher.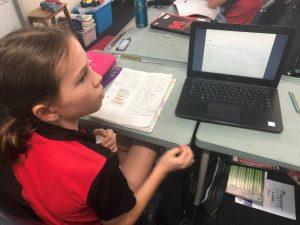 In this case, students were engaging in their spelling list and then used a dictionary to record their word meanings.  If students are not sure what to do next, they can use google classroom to email their teacher directly or their peers. Now that is the spirit in using technology to engage teachers and each other! Go Year Five!