Shoe Lace Tying Lessons!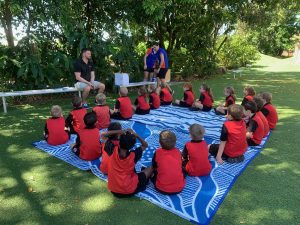 The Importance of Being Independent ……as parents and teachers we want our students to become more independent every day and more so when they begin their journey at St Therese's. Getting dress every day is an activity that is taught by our parents before many children start school.
As part of this process is learning not only to put shoes on the correct feet but to tie shoelaces.  At school, we continue to support parents in the learning and teaching of their children. One such activity to help students achieve the 'milestone' dressing independently is for them to be able to tie shoelaces.
Ascent Footwear along with Athletes Foot came to visit our amazing year 1 and 2 students for Shoe Lace Tying lessons.  Now that is the spirit of parents and school working together for student independence!