Year 6 – Exploring the wonders of science
The Big Cabbage Experiment!
By the end of Year 6, our students need to be able to compare and classify different types of observable changes to materials. Recently the students engaged in the "Big Red Cabbage" experiment.  In this simple but effective experiment the students had to follow procedures to develop investigative questions and design investigations into simple cause and effect relationships.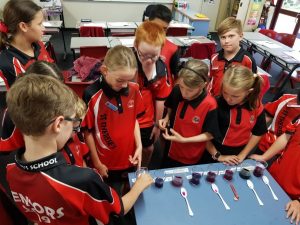 The "Big Red Cabbage Experiment" is a fantastic chemistry experiment that our students really enjoyed. Red cabbage contains anthocyanin which is water soluble pigment. This pigment changes colour when it was mixed with an acid or a solid base like washing powder. The deeper red colour cups show high acid and when mixed with a solid base like washing powder it turns green. For example, the students added lime juice into a cup and because limes are acidic the cabbage pigment changed to a darker red.
The experiment provided information for our students to learn not only how cabbage can be used to test liquids of varying acid lev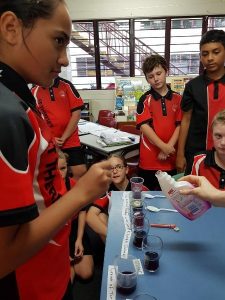 els but provided opportunities to learn what is acid and what type of things in their house hold are acidic! It's incredibly cool to watch, and the look on our students faces showed us how engaged they were in this fun experiment! Now that is the spirit of learning!