Welcome back to school.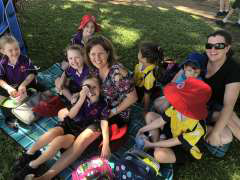 Cross Country – Cross Country running is a fantastic team sport where individuals run a race in a natural terrain. Its history dates to 1876 and the race was referred to as "Hare and Hounds" or the "Paper Chase." The rules and traditions of cross country racing emerged in Britain and the first national  competition was held in 1903 with the race eventually becoming an Olympic sport in 1912!
With over a one hundred years on since cross country became a major sport, our school held its annual event in what was described as perfect conditions! All our students participated showing their courage to "have a go" cheered on by a very vocal and supportive crowd consisting of parents, grandparents, friends and staff. In the background the continued spirit was constantly heard by the student's loud War Cries and the overwhelming cheering on the side lines. A sensational event that was enjoyed by all!
My gratitude and heartfelt thanks to Mr Irvine for organising a fantastic day that continues to keep alive the history of the "Hare and Hounds". Some special thanks also to all the staff, marshals, judges and parents who assisted on the day. Congratulations again with McAuley being the 2018 winners. Best wishes for all our students who will now complete in the Diocesan Cross Country. There are more photos on the Facebook page. Enjoy! https://www.facebook.com/StTheresesBentleyPark/
Thanks for reading and have the best week ever!
David
May the Lord bless you and take care of you;
May the Lord be kind and gracious to you;
May the Lord look on you with favour and give you peace.