Principal Visit to Year 1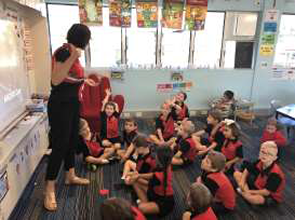 During the week I visited Year One who were sharing their stories about minibeast and their local habitats. The students  investigated our playground and the rainforest searching for small animals and their local habitats. They were on a local safari! The students recorded their initial ideas in their workbooks and then shared their findings to the classroom. Some students continued their observations at home and found all sorts of creatures. One girl brought a caterpillar to school and excitedly shared her new-found knowledge. Within the year one science standard, all students by the end of year one can describe objects and events that they encounter in their everyday lives and the effects of interacting with small creatures like frogs and caterpillars. Our students are well on the way in achieving this standard as they eagerly identified a range of habitats, plants and animals within each area. Now that is the spirit of being on an adventurous safari!
See Facebook for more photos https://www.facebook.com/StTheresesBentleyPark/
Thanks for reading and have the best week ever!
May the Lord bless you and take care of you;
May the Lord be kind and gracious to you;
May the Lord look on you with favour and give you peace.
David