Year One Art Classes
The Arts particularly Visual Arts are vital to any and all communities on this earth. At St Therese's we believe that Arts provide endless opportunities and possibilities for our students in helping them to become the best version of themselves.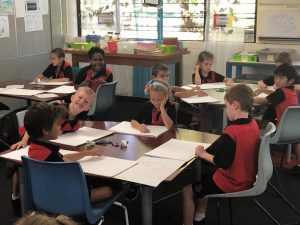 This week I had the pleasure of visiting our Year One students whilst they were engaged in their Visual Art lesson with Mrs Ganley. The importance of providing quality art education for all our students at St Therese's is one of our distinctive offerings. Visual Art is one of the universal languages and is well documented in the philosophy of Reggio Emilia. Such occasions provide all human beings opportunities to understand and to communicate universally. For instance, we use art to express ourselves and to speak to others across time and place. Our students are being provided endless opportunities have an essential drive to create and understand visual imagery, hence the possibilities are boundless. Now that is the spirit of learning!