Year 6 camp to Mungalli Falls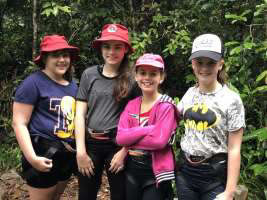 Last Tuesday I had the pleasure of visiting the fabulous Year Six students and staff at Mungalli Outdoor Education Centre. Throughout the three days our students engaged in outdoor recreation activities that included higher order team building skills like Rope Courses and Ramp Building and activities that built on independent skills like abseiling.
One activity the students had to do was to navigate and descend a twelve metre cliff face in the rain. Whilst abseiling our students not only faced their immediate "Fear Factors" but they accomplished the task with ease. I was in awe as they pushed their emotional levels to the "Max". To see their sheer excitement of overcoming their person fears and conquering the challenge was one of the highlights of the day.
Raft building was another great team challenge. The activity required our students to work and combine their knowledge, skills and attributes for a group outcome. Using four poles, two tyre tubes and rope they had to build a raft and sail it across the damp and back whilst keeping a "princess" dry. In observing the students, I began to think that such activities that build on cooperation, inclusiveness, creative thinking, problem solving, communication and teamwork need to be more explicit in our 12-year schooling process.
There is something special about being connected to the great Australian outdoors and the activities and yummy food certainly did this and more. My sincere gratitude to the teachers and parent partners who have given up their own family time to expand our student's lifelong learning skills.
Best wishes David