Principal Visit to Year 3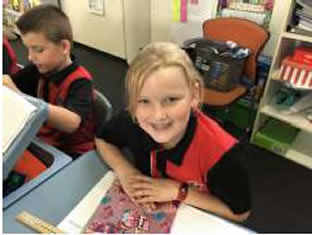 During my visit to Year 3 I was greeted by a very excited group of students who were willing to share their spelling results with me.
I often hear that  schools have "dropped the ball on spelling or kids can't spell these days!" Well at St Therese's this is not the case. At St Therese's spelling does matter and these Year Three students are a fine example!
We believe like parents that proficiency in spelling supports reading and it reflects more advanced linguistic knowledge. The 26 letters of the alphabet can produce approximately 44 sounds (phonemes) that are represented in 250 different spellings. No wonder spelling is challenging!
However, our teachers like Mrs Smith know that spelling and reading can be mutually beneficial when taught together, and that such approaches have improved our writing across the whole school for the past three years! Go Year Three!
For more photos please go to our Facebook page and see our chargers punching above their weight!
Parents, here are some words and their definitions explaining the link between reading writing and spelling that might assist you in understanding the importance of linguistic knowledge.