Italy visit raises bar on student wellbeing and learning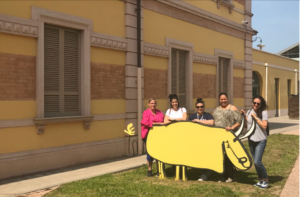 Returning from a study tour to Northern Italy, the leadership team and I began conversations around our moral imperative, which is to raise the bar on student wellbeing at St Therese's. Student wellbeing and learning for all is the centrepiece for us.
Joining me in Italy were Jacqueline Jackson, St Therese's Assistant Principal Administration, Learning Support Teacher Sarina Van der Zwan, and Lead Learner of Learning and Teaching Aleesha Exarhos, along with Catholic Education Services' Senior Education Officer Primary Learning and Teaching Christine Stratford and Education Officer Indigenous Education Myree Sam.
The drive to improve learning and wellbeing for ALL students at St Therese's School, Bentley Park has culminated during this study tour, where we learned about the Reggio Emilia way.
The principles of Reggio Emilia are around the image of the child, making learning visible, parent participation and the environment as crucial elements to learning. There is a growing body of evidence showing the importance of a strong start in life including the role of experience, environment and relationships and their direct effect on achievement and wellbeing.
At St Therese's, we looked both locally and globally at approaches to re-shaping culture, pedagogy, the learning environment and its image of the child. What followed was a series of study tours, research groups, data collection, conversations and investigations into how St Therese's could move forward.
The study tour allowed us to learn more about the Reggio Emilia approach and how we can apply the principles to our Australian context and, more specifically, to St Therese's. We want to create a more inclusive culture of learning at our school that gives our students opportunities to have the best start in life.
Almost 50 countries were represented at the conference, including China, Brazil, Germany, Australia and the United States, and followed one to Adelaide in 2016 which I attended.