World Environment Day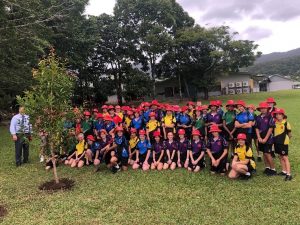 This week our community celebrated World Environment Day. Our theme for the next two years will focus on "Called to be Stewards of Creation for a Spirited Tomorrow -Celebrating Biodiversity."   Biodiversity is the variety of all living things; the different plants, animals and microorganisms and the ecosystems they form.  Biodiversity is vital to the survival of all life on earth. Last Friday under the direction of our Environment Committee and staff, our students reflected on the importance of World Environment day with a liturgy and planting of another tree in our school grounds.
Generous God, who gave us this beautiful world for our enjoyment, help us to value and appreciate it. With our help, may we become people of action, ready and willing to do all we can do understand the importance of biodiversity and how it keeps our planet alive, May we strive to make the environment we live in a health and life giving place for all. We ask this prayer in Jesu's name Amen.