Learning in Chinese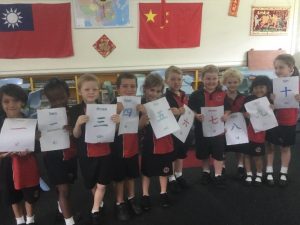 This week I had the pleasure of visiting our students who are learning about Chinese. There are many benefits to learning another language and being multilingual. … 'A multitude of research shows that learning a new language offers many rewards,' Dr Arber and Dr Weinmann say. For instance, at St Therese's the benefits for our students learning a foreign language include
Boosts brainpower.
Improves memory.
Sharpens the mind.
Keeps the mind sharper for longer.
Enhances decision-making.
The first language is improved.
Improves performance in other academic areas.  In this area alone, learning Chinese increase higher cognitive skills. Studies show that the benefits of learning a new language include higher scores on standardized exams in math, reading comprehension and vocabulary by multilingual students compared to the scores of monolingual students.  We strongly believe that language skills boost your ability to do well in problem-solving tasks across the board, a fact recognized through compulsory foreign language learning curriculum in Australian schools. Now that is the spirit of learning!