Engaging in Physical Education Program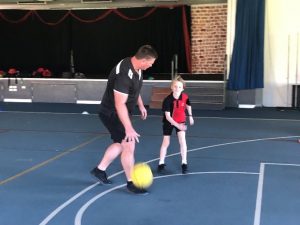 During the week, I visited our students engaging in their weekly physical education program in our school hall.  There are many powerful and broad benefits that our students gain from our quality physical education program with Mr Irvine.  At St Therese's we believe in actively inspiring our students to be the best version of themselves by encouraging our students to be physically and mentally active, fit and healthy for life. It is amazing when you stop and think about the many benefits that our students receive from our quality physical education program.:
Improved physical fitness and confidence
Skill and motor development
Facilitates development of student's responsibility for health and care
An avenue to release stress , tension and anxiety
Strengthened peer relationships
Experience in setting goals
Development of skills and resilience in team sports
As you can see, we have a strong commitment towards our students being the best version of themselves both physically and mentally. To this end, we begin the term with the commencement of swimming and the continuation of our school camp program for Year Five later in the term. Such activities ensure that every student develops the skills, knowledge and understandings to be engaged, confident and capable learners. Now that is the spirit of well-being and learning!