Planting Sunflowers in Year 3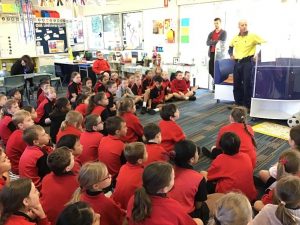 Recently our Year Three students and teachers along with Mr Justin Worsnop (our fantastic Grounds person and teacher) planted some sunflower seeds. The aims of the exercise are;
identify and describe the functions of different parts of flowering plants: roots, stem/trunk, leaves and flowers.
explore the requirements of plants for life and growth (air, light, water, nutrients from soil, and room to grow) and how they vary from plant to plant
investigate the way in which water is transported within plants
explore the part that flowers play in the life cycle of flowering plants, including pollination, seed formation and seed dispersal.
By the end of Year 3, students will be able to describe features common to living things. In this activity, they will make formal measurements and follow procedures to collect and present observations that help answer the investigations surrounding their sunflowers. Now that is the spirit of learning!