Year 5 FRACTIONS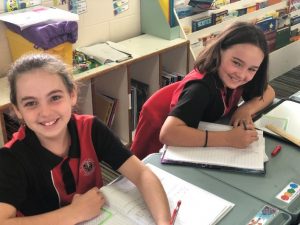 When it comes to teaching maths at school or home it's fractions our kids and you as parents will probably struggle with most. With words like numerator, improper, vinculum, and others making their way into homework and school reports, sometimes even the number of terms relating to fractions for students can all seem a little overwhelming for parents.
This week our students in Year 5 were learning about adding fractions.  There are 4 simple steps to learn about fractions. They are
Step 1: Make sure the bottom numbers (the denominators) are the same.
Step 2: Add the top numbers (the numerators), put that answer over the denominator.
Step 3; The vinculum which is the bar separating the two numbers.
Step 3: Simplify the fraction (if needed)
For me as a teacher, when listening to the lesson, I found myself visualising pieces of pizza! This is a helpful tip when you're starting out with teaching children fractions, objects or pictures of objects are a great way to understand how they work. Now that is the spirit of learning!