Visit to St Joseph's School Weipa
Last week Mrs Jackson and I travelled to sunny down town Weipa to celebrate their Official Opening of Stage 2 with the community.  It was an honour to be part of St Joseph's school community to see the wonderful state of the art facility and the joyful students engaging within the various learning spaces. The Bishop blessed the learning spaces and acknowledged the wonderful commitment by the staff and community in making St Joseph's a place where every child has an opportunity to achieve their potential in a Christian environment.
Mrs Jackson and I also had the opportunity to talk with the students and hear how excited they are to be part of St Joseph's journey. Whilst at the school, we also had the opportunity to meet with Mr Mark Stallman from Catholic Education Services and our Architect (who designed St Joseph's School). At the meeting we discussed St Therese's future project of covered walkways, car parks and our new proposed adventure playground. In the coming weeks we will meet again to put our plan into action that will be supported by our 2019 budget.
I wish to thank Mrs Harrison and staff at St Joseph's for making us feel so welcomed and part of their caring and outreaching community. St Joseph's community is certainly leading the way in making a difference to the students and their community.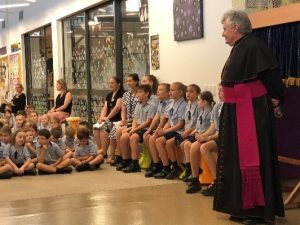 Congratulations St Joseph's Weipa on the Opening of your Stage Two Agile Learning Spaces!