BOOK WEEK CELEBRATIONS
Another year comes around with a new book week theme focusing on "Find your Treasure."  St Therese's this year really went to sea in finding many treasures and opportunities for our students to engage in reading.  Our library staff found an old pirate ship with plenty of treasure to surround it. The students were very keen to borrow books and tell us some funny pirate jokes.
Our staff who love to get into the spirit of Book Week were thrilled by this theme with many dressings in piratical costumes. It was really exciting to see our staff with some home made pirate outfits with a pair of old brown pants, cut ragged at the knee, an old plain white t-shirt! Aaahhh see the pictures below!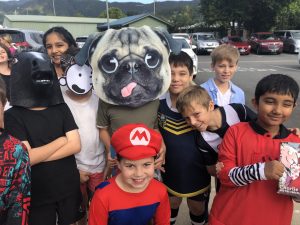 The big celebration was our annual Book Week Parade where many of our parents joined in the fun. Many thanks to everyone including our fantastic library team of Joan, Anne and Jodie for coordinating the parade. Now that is the spirit of learning! Parents have a look at Dojo for more class photos highlighting the parade.