Reggio Emilia: Nature Play Ground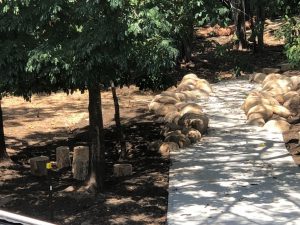 The expanding development of our Nature Playground is beginning to take shape. We began planning for this "environmental outdoor play precinct" nearly 12 months ago. Our educational philosophy for our nature playground is based on one of our school's four cornerstones being Reggio Emilia.
We believe that our students should be given the freedom to explore the outdoor environment as they conduct their own learning experiences.  As they engage in either solo play, parallel play, imaginative, adult-directed and interactive play they will refine their important milestones in their childhood development in areas of resilience, social and emotional competence and not to mention the opportunities for our students to become more self-confident in decision making and problem solving.  At St Therese's we are excited and looking forward to our environmental play precinct being finished in January next year. So watch this space!