ANZAC Day Events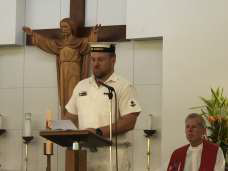 Once again, our school actively participated in the many events leading up to and including the ANZAC Day Edmonton Commemorative Service March to Fuller Park.
The week begun with the students joining the Australian War Memorial to Commemorate the Centenary of Armistice. Under the guidance of Mrs Eddy our Defence Force School Coordinator, provided an opportunity for our students to pay their respects in the form of a written prayer or message on a wooden cross. These crosses will then be laid on war graves and memorials where Australian servicemen and women are buried in countries such as Turkey, France, Belgium, Malaysia, Singapore, Greece, South Africa and the Middle East.
Additionally, our students had the opportunity take part in a"Remember Me" project which allows each student to record the name and age of one of the 62, 000 Australians who died during the First World War. These recordings will then be played in the First World War section of the Cloisters in the Commemorative Area at the Australian War Memorial for the entire Centenary period.
On Monday the 23rd April the students had a very special visit from our Defence Force personnel for a Q&A session. Each class engaged in a thirty minute discussion time and they proudly asked some really interesting and thought provoking questions about our Armed Forces.
On Tuesday our school community came together for our school ANZAC Liturgy and then participated in the Edmonton Commemorative service at Fuller Park on Wednesday. I wish to express my sincere gratitude and thanks to Mrs Eddy for organising and coordinating the weeks events and to our school community for joining in the commemorative service. See Facebook for more photos https://www.facebook.com/StTheresesBentleyPark/
Thanks for reading and have the best week ever!
May the Lord bless you and take care of you;
May the Lord be kind and gracious to you;
May the Lord look on you with favour and give you peace.
David